16 Middle School Homeschool Blogs You Should Be Following
If you are a homeschool parent who enjoys looking to your favorite blogs for encourage and inspiration and you've also got tweens and teens, you may have noticed a strange phenomenon. Once your favorite bloggers' kids hit middle school, things can get really quiet on the internet. If you listen closely, you may even be able to hear crickets chirping.
I think a big part of that is that when kids are younger there is no shortage of fun, hands-on projects and cute photos. As a blogger, it's easy to share with readers all the crafts and artwork and fun snacks. With older kids, there is often a lot of fun learning still going on, but maybe not so many great hands-on projects that the blog world wants to hear about. And, definitely not as much that those same kids are willing to let you photograph and blog about.
Though it may be quiet, there are still lots of bloggers willing to encourage and inspire you parents of middle school students. So you don't miss any of them, I've rounded up 16 middle school blogs you should be following (17, if you count the one you're reading this on. Just sayin'.).
Education Possible – Susan Williams and Megan Zechman are passionate about helping families with older kids discover creative ways to learn together. Both eclectic, seasoned homeschoolers, they regularly write about the interactive and hands-on activities used to teach their middle school children. Since learning doesn't just happen at home, they teach families how to make field trips and family travel educational. Susan and Megan especially love sharing their ideas that bring history to life, make art easy, teach kids valuable life skills, and experience science through fun experiments.
Unschool Rules – Joan Otto writes about life with her 13-year-old "eighth-grade-ish" daughter, Sarah, following the family's leap into homeschooling in February 2012. The Ottos consider themselves radical unschoolers, or life learners, and say the coolest thing about their untraditional approach (besides the ability to stay up til 2 a.m. and sleep late!) is that they're ALL learning in ways they'd never have expected.
The Homeschool Scientist – Marci's mission is to take the fear out of and put the fun into homeschool science. She shares resources and tips that have worked with her children, including a middle school daughter.
Our Journey Westward – Cindy West, mom of three, blogs about the Charlotte Mason style of homeschooling. One of those three is currently in middle school, but you can find many middle school posts from years past, too.
Homegrown Learners – Mary Prather homeschools her two children, ages 9 and 12. Her oldest is in Classical Conversations' Challenge program. She blogs about her journey through classical education and shares ideas as she navigates the waters of homeschooling a middle grades child (with a younger sibling in tow!).
Eva Varga (aka Academia Celestia) – Eva Varga is a science educator and homeschool mother of her two children, ages 9 and 11. She blogs regularly about science, field trips, traveling, and their cultural heritage.
Forever, For Always – Jen shares the ups and downs of homeschooling a large family, the oldest of which is 13. Juggling life with six children, attempting to stay sane, as well as enjoy life, is always the goal. A relaxed, but thorough approach to learning, along with real life experiences are working for her family right now.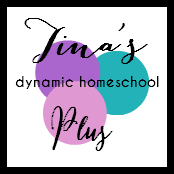 Tina's Dynamic Homeschool Plus – Tina Robertson just survived celebrated the graduation of her first homeschool gradaute. Her love for unit studies has helped her go from being a not the bomb mom to controlled creativity. She shares freely her lapbooks and unit studies, most of which are for middle school to high school ages.
Great Peace Academy – Renee Brown is mom to her one son, Jonathan age 10. He works at multiple levels of study due to his advanced learning abilities. Renee considers herself to be an eclectic homeschooler gathering curriculum from a wide variety of levels and methods of study. She writes weekly about her homeschooling adventures sharing how and what her son has been studying each week. She also shares information about what she is learning about the unique needs of a gifted learner.
These Temporary Tents – Aadel lives and learns alongside her 3 children who have always been homeschooled. She writes about their military life, using a delight-directed unschooling approach, and her faith. She recently started blogging about the process of creating a middle school transcript based on her 13 year-old daughter's goals and interests.
The Heart of Michelle – Michelle Cannon shares her journey through homeschooling gifted, special needs kids using the Charlotte Mason method of education. She's currently educating two daughters through the middle and high school years. Michelle is also the new host of The Homeschool Showcase and she's done an amazing job with it!
The Chaos and The Clutter – Sharla blogs about life in her large family including sensory issues, special needs parenting, adoption, and homeschooling her children, including some rambunctious middle schoolers!
Blog, She Wrote – Heather Woodie is a former middle school (and high school) science educator who blogs about homeschooling her four children- two of whom are currently middle schoolers (ages 11 and 13). You'll find ideas on teaching middle schoolers with a unit studies and project-based homeschooling approach. Life is never dull with one last elementary student and one in high school- her teaching style has evolved from that of an instructor to a mentoring role as she coaches her students to reach their life goals.
Starts At Eight – Heidi is mom to 3 homeschooling children. She considers her style to be a combination of classical and eclectic with a splash of unschooling for her younger child. Her weekly writing includes things like product reviews of homeschooling curriculum and resources, help for raising teens, and the everyday things that pop up in her homeschooling journey with 2 in middle/high school and one little.
Milk and Cookies – Amy Stults is a devoted wife of 16 years to her knight in shining armor (he is the milk to her cookies) and mommy to their middle school aged future scientist. You can find her writing about homeschooling a gifted child with a classical, literature-rich method, using LEGO© products for learning, genealogy, and using all things geeky in your homeschool.
If you're looking for more ideas for homeschooling middle school, don't miss the new weekly link-up, Finishing Strong, hosted by Education Possible with a slew of fantastic co-hosts. It starts next Wednesday, March 5, and focuses on homeschooling the older grades. You might also be interested in the Homeschooling High School link-up hosted by The Daisyhead on Fridays.
top image courtesy of pixabay
Kris Bales is a newly-retired homeschool mom and the quirky, Christ-following, painfully honest founder (and former owner) of Weird, Unsocialized Homeschoolers. She has a pretty serious addiction to sweet tea and Words with Friends. Kris and her husband of over 30 years are parents to three amazing homeschool grads. They share their home with three dogs, two cats, a ball python, a bearded dragon, and seven birds.