Colorful Spring Chalk Art
Spring is in the air and that means the world around us will be filled with bright, beautiful colors! Even if spring hasn't quite arrived to your area you can begin to bring the fun signs of the season into your home with simple and colorful spring chalk art projects.
Chalk art is fun for all ages and easy enough for all levels of artistic abilities. Trust me, my kids don't consider themselves to be very artistic, but we really enjoy working with chalks because they are bright, colorful, and even a little messy!
Some of our past spring chalk art efforts have included rainbows and pots of gold. We have even daydreamed of warm sandy beaches while drawing beach umbrellas and sand buckets.
This year we are trying our hand at cute baby chicks. Check out how easy this is:
Spring Chicks Chalk Art
Supplies:
Step 1
Use a half sheet of colored card stock (we used green).
Step 2
Use the yellow chalk and draw 3 circles for the chick bodies. We made ours different sizes. Use your finger to blend the chalk to make the chick bodies look "fluffy". Make a smaller circle (also in yellow) for each chick's head.
Step 3
Use the orange chalk to draw legs and a beak on each chick.
Step 4
Use the black chalk to make a small circle on each head for the chick's eye.
The cute hand-drawn masterpieces make thoughtful gifts for family and friends. You can frame your child's creations, laminate them (so the chalk doesn't smudge), or hang them on the wall to help decorate for spring!
If your child would like to learn to draw a bird nest using chalk, share this short video tutorial:
We enjoy having a little inspiration and guidance to help us with our chalk art projects. A Seasonal Start in Spring Chalk Pastels offers tutorials for the following easy art projects:
Rain
Shamrock
Rainbow
Swing
Jonquil in a glass of water
Spring tree
Spring tree (bonus acrylic tutorial!)
Quilt on a clothesline
We hope your family has a bright and happy spring!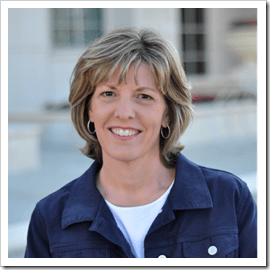 Susan Williams is a wife, mom of two teen homeschooled boys, and a co-founder of
EducationPossible
, a website for sharing creative, hands-on learning activities for middle school. As a veteran educator she has taught in corporate, college, and various homeschool settings. Susan enjoys traveling with her family, sharing ideas with other moms, and helping her children explore the world around them (and as Floridians that usually includes spending time at one of their favorite worlds – Walt Disney World).
This article was written by a Weird, Unsocialized Homeschoolers guest author. See the author's full bio in the body of the post.