What Has Surprised Me Most About Homeschooling Middle School
A few weeks ago, I ran into a friend I hadn't seen in years. We talked all about the usual things – the kids, the husbands, the jobs, and, because we both homeschool, the learning. We laughed about how little our children used to be and how much they've grown.
Then, she said something that made me want to hug her and cry, all at the same time.
"Homeschooling during the middle school years is really, really weird. Right?"
"Right," I said, giggling a little.
My oldest son is heading into his high school years.
My youngest is just beginning middle school.
After homeschooling middle school now for three full years, and staring down the reality of three more, there are a few things that still surprise me about this particular season of learning.
Too Old and Too Young, All At The Same Time
These years are called the middle years for a reason. Not quite children, not quite teens, I have found that this age group can fit in either, or not fit anywhere at all. This is especially true in homeschooling.
The old field trips are no longer exciting – unless a friend wants to come along and then all of a sudden, the aquarium touch tank is a thing of complete and total beauty.
The read-alouds are babyish, but pull out a thick classic, and it's too much.
I have found that trying to incorporate elements of both makes the most sense. We still do lots of hands-on activities, but also throw in serious science or something gross to round out the developmental appropriateness.
The Resistance Is Real
Call it puberty.
Call it not feeling comfortable with the young ones or the teens.
Whatever you call it, in my experience, these years are the ones that bring the most resistance to learning.
What once worked beautifully as a morning routine is suddenly boring. The daily expectations are met with questioning and protest. The homeschool picture of you and your kids curled up on the couch reading turns into you and your kids on the couch trying to work through character concerns.
The good news? Because nature of these years is that they are both too old and too young at the same time, you still sometimes get snuggles on the couch and excitement over that fun science experiment you planned.
I try to remember, when the resistance comes, our children need these years to push and pull, figure out who they are, and do it in the safety their family provides.
Resources Can Be Limited
I LOVE all the resources that now exist for homeschooling high school. Getting ready for my oldest son's next season has been a breeze. The options for curriculum are excellent, and there is tons of support available from other virtual moms.
The middle school years can be a little trickier when it comes to resources, but they are there! You just have to look a little harder.
It's Still Working
Perhaps the biggest surprise of all for me has been the realization that even though these years can be so different – even challenging – our decision to homeschool is still working.
My boys are confident in their abilities, and they continue to learn in ways that complement their individual learning styles and differences. As much as these years bring turmoil and the beginnings of the search for a sense of self, I am grateful that we have the opportunity to do it all together at home.
My friend was right. Change and growth always cause a bit of discomfort and the middle school years are filled to the brim with both.
These years can be weird.
I am finding they can also be wonderful.
What has surprised you most about homeschooling middle school?
You Might Also Like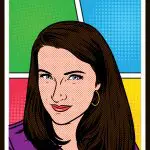 Shawna Wingert is a special education teacher turned writer, speaker and consultant. She is also a homeschooling mom of two brilliant boys with differences and special needs. Shawna has written four books for parents of special needs – Everyday Autism, Special Education at Home, Parenting Chaos and her latest, Homeschooling Your Child With Special Needs. She has also been featured in special needs discussions on Today.com, The Mighty, The Huffington Post and Autism Speaks. You can find her online at DifferentByDesignLearning.com. You can follow Shawna and Different By Design Learning on Pinterest, Facebook and Instagram.