Updated for the 2016-2017 school year
When we started homeschooling in 2002, Megan was only a year old and Josh was approaching 3. This year, Megan is in 9th grade this year and Josh is in 11th. No, that doesn't make me feel old or sentimental at all. (That was sarcasm, in case you weren't sure. {sigh})
Toward the end of the year last year, my teens were ready to ditch their workbooks and move to a more interest-led style of learning. It has led to some exciting changes.
This post contains affiliate links. Some of these products were sent to me at no charge for the purpose of reviewing them. See full
disclosure policy
for more details.
History
Megan will be studying the Titanic, World War I, and World War II this year. We'll be pulling from a variety of resources, including some books we picked up on our tour of the Titanic Museum in Pigeon Forge, Tennessee at the start of the year. We also plan to attend some of the homeschool days at the Museum of History and Holocaust Education in Kennesaw, Georgia.
Josh has met all of his history requirements, so we don't have anything specific planned for him. Instead, he'll be using the time for some self-directed electives. We talked about a modern history course, so we may add that in a bit later in the year.
Science
Megan wanted to study astronomy this year, so I signed her up for Experience Astronomy, on online course that runs from September to May.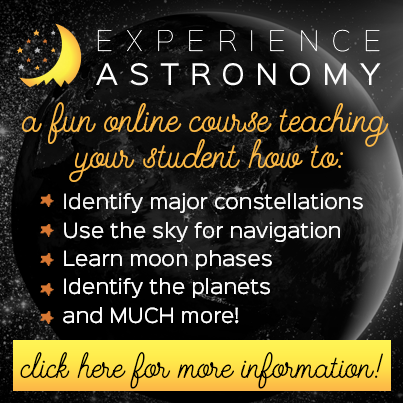 Josh didn't want to study astronomy, so after some discussion, we decided on chemistry using Chemistry 101. We already had it, but had never used it. (You know how good intentions and shiny new curriculum can cause that sometimes.)
I printed off the guidebook and had it spiral bound. Josh and I have both been surprised to discover that he finds the material rather interesting and engaging. It makes me wish we'd used Biology 101, which we also already owned, last year.
Literature and Composition
We're back to our beloved Easy Grammar! This year, we're using the Ultimate Series, which is set up as daily review like Daily Grams. The kids will be reading a variety of books, including those related to their topics of study, mom-suggested, and self-selected topics.
Writing will be cross-curricular with WriteShop as our reference.
Math
Teaching Textbooks will continue to be our math program of choice. I love the video instruction method and the fact that the grading is done for me. The kids like it because it explains things well and they can work independently on their laptops.
U.S. Government
My plans for a government course fell by the wayside last year, but we're definitely doing it this year since both kids are in high school. To hold ourselves accountable, Josh and Megan each invited a friend to join us and we're going to have our own mini co-op.
We'll be using two products. First will be A Noble Experiment from Zeezok Publishing.
Second, we'll be using Constitutional Literacy from Apologia. We'll also be having a little fun with Civitas from Bright Ideas Press.
Foreign Language
We're picking American Sign Language back up with ASL Done Right. Megan is also working on her own to learn Japanese with Ultimate Japanese. We also have Ultimate Spanish that Megan has expressed an interest in pursuing.
Electives
Megan is doing Home Ec (we'll be following this basic idea), photography, and driver's ed as her electives. Josh is learning about computers and audio-visual equipment. His courses will be self-directed with some mentoring from the tech team leader at church.