10 Awesome Media Portrayals of Weird, Unsocialized Homeschoolers
Picture this: homeschoolers in the media. Where does your brain go? Does it immediately jump to the super-strict family that never leaves the house? How about the totally anti-social geniuses next door? The uber-religious-conspiracy-theorist family? As members of the homeschooling community, we all know about these overly-done, long-perpetuated media stereotypes, right? (Sometimes, as homeschooling parents, we can even find some truthful humor in aspects of them!)
In reality, however, we know that we are much more diverse, awesome, and multi-faceted than those overused stereotypes allow. This article is about where you can find some totally spectacular, delightfully eclectic, surprisingly accurate portrayals of different types of homeschoolers in books and movies. These homeschooled characters may just remind you of some homeschoolers you know–maybe your own kids, or maybe even yourself!
And sure, most of these characters are a little bit "weird and unsocialized," (in line with the stereotypes about homeschoolers), but they are so in the best, most awesome and brilliant ways (in line with most real-life homeschoolers). After all, that's how we roll here.
1. Enola Holmes: The Classically Educated Homeschooler
First of all, if you have Netflix and have not watched Enola Holmes, what are you doing? Go watch it now! Call it "homeschool goal planning!" In the film, Enola Holmes (younger sister of the famous detective, Sherlock Holmes) is taught by her brilliant and eccentric mother, Eudoria. Like many classically educated homeschoolers, Enola's education consists of a broad understanding of history and classical literature, exploring important questions, and developing critical thinking skills….plus a dash of of jiu-jitsu and tennis (because homeschooling moms like Eudoria know it's important to provide some balance in their children's education.) There's a touch of Charlotte Mason philosophy there too, truth be told.
P.S. I shamefully admit that I have yet to read the children's book series that inspired this film, but it's definitely on my to-do list! Maybe it should be on yours, too! One of our team members, Erin Vincent from Nourishing My Scholar, shared about a great virtual book club for it that would be a great place to start.
2. Dora the Explorer: The "Exploring" Homeschooler
For better or worse, we all know about Dora, right? This adventurous cartoon girl probably has likely taught, or is teaching, your child some key Spanish phrases. Just as many homeschoolers do, Dora learns about the world around her through – well- exploring it! If you haven't seen the charmingly self-aware live-action movie, Dora the Explorer, I'd definitely recommend it. In addition to appealing to teens (who possibly watched Dora when they were younger), the film is also fun for parents…especially homeschooling parents!
The film shows a well-rounded view of homeschooling, too. For example, Dora has a close relationship with her professor-parents, a strong sense of self, and an appreciation for learning because of her homeschooled background…but she also definitely beats to the tune of her own drum compared to her public-schooled peers.
3. Rose from Eight Cousins: The Wholesome Homeschooler
In Eight Cousins (written by Louisa May Alcott), young Rose Campbell is orphaned and brought up by her kind-hearted uncle alongside her male cousins. In a time when girls were educated very differently from boys, this story shows how homeschooling can provide a freer, more well-rounded education. The story is also jam-packed with morals and lessons of virtue that the main heroine is trying to learn, which is what makes Rose our Wholesome Homeschooler.
4. Wednesday and Pugsly Addams: The Truly Weird and Antisocial Homeschoolers
Most of us probably know about the classic macabre TV show, The Addams Family. But have you ever watched the first episode of the original series? I was checking it out the other day when I realized that this was probably the first "homeschooled family" to ever appear on television. At one point, a government agent comes to tell the Addams that they simply must send their children to public school and is met with evidence that the children have actually learned quite a lot about various topics (including raising thoroughbred spiders). When told that his children must be sent to school, Gomez is shocked, saying: "Why have children just to get rid of them?"
The Addams Family is intended to be one of the weirdest families in media history, so Wednesday and Pugsly Addams would be proud to make our list as The Truly Weird and Antisocial Homeschoolers Next Door. Despite being "creepy, cooky, and altogether spooky," you have to admire the strong family relationships and emphasis on education in this TV family!
5. Pauline, Petrova, and Posy from Ballet Shoes: The Career-Focused Homeschoolers
Did anyone else devour Noel Streatfield's classic, Ballet Shoes, as a child? This children's book explores the ups and downs of three sisters who all adore different aspects of the stage. In order to pursue their dancing and acting interests, they are homeschooled. This example of "Career-Focused Homeschoolers" actually represents a whole group of homeschoolers that are often overlooked! If your child homeschools in order to focus on special interests or career goals, then you need to check this one out! Actually, check it out regardless. It's a great read to share as a family.
6. Matilda: The (Honorary) Self-Taught Homeschooler
Alright, settle down. I know you Matilda fans (whether Roald Dahl's book or the movie adaptation) are reading this and thinking: "Wait a minute, Matilda is not homeschooled! The whole plot of the book/movie is about her going to a school and facing down an evil headmistress!" Don't worry. I'm aware of that. However, I do have reasons for naming Matilda as our Honorary/Self-Taught Homeschooler.
Despite the fact that her parents are awful and not interested in teaching her anything, Matilda learns to read and absorbs every book she can find. She hangs out at the library. She asks questions. She teaches herself constantly. Sure, she goes to school, but she's really just there to escape her parents and make friends (it's more like her extracurricular activity). For these reasons, I argue that Matilda is a true, self- taught homeschooler at her core. Plus, I just love a brainy rebel, and I think most homeschoolers do. Let's give her honorary membership, okay?
7. Heidi: The Rural Homeschooler
Heidi, written by Joanna Spyri, is a classic work of literature that has also inspired several film adaptions. If you somehow don't know the story, it's about a young girl who goes to live (and learn from) her grandfather who lives in the rural mountains. To me, Heidi represents the many homeschoolers who homeschool simply because its the best option for where they live (for whatever reason) and/or so they can help out with farm life. Like these real-life rural homeschoolers, the character of Heidi finds joy in nature and in the hands-on activities that homeschooling requires. Like some rural homeschoolers, she's also not totally sure how to act in the big city (but that's okay).
8. Henry, Jesse, Violet, and Benny from The Boxcar Children: The Survivalist Homeschoolers
The Boxcar Children series, an iconic early childhood read, is a great example of how homeschooling can be heavily based in life skills and even survival skills! Particularly in the first book in the series, the four siblings demonstrate critical thinking skills each time they gain survival know-how. And let's not forget that moment when Benny's sisters teach him how to read by writing words in the dirt with a stick (and it worked!)
9. Nim from Nim's Island: The Unschooled Adventurer
A lot of the homeschooled characters on this list have a hint of unschooling about them. This isn't too surprising because most homeschoolers enjoy picking up at least part of their education from life-learning/their interests. (Also, a slightly unschooled education can make for a better story!) However, Nim from the movie Nim's Island, strikes me as the most definitive representation of unschooling. Little Nim lives with her father (a marine biologist), and she is both wild and extremely intelligent. Her homeschooling largely consists of helping her father with his work, observing and interacting with island life, and devouring lots of novels by her favorite adventure writer. Not a bad education, really.
10. Stargirl: The Cool Individualistic Homeschooler
Stargirl (yes that's her name) from the hit YA novel (also the Disney + movie) of the same name, is the ultra cool homeschooler. By saying that, I'm not saying she's not weird or unsocialized, by the way. As Stargirl joins public school at the start of the story, it's glaringly obvious that Stargirl is very different from her public school peers, but she's also 100% confident in the things that make her unique. Her peers are drawn toward this about her and want to be more like Stargirl. Her confidence, whimsy, and individualism become a source of inspiration (and conflict) as the story progresses, but one thing is clear: Stargirl is incredibly cool. She also inspires others to embrace the things that make them unique!
Do you see a little bit of your homeschooler or yourself (if you are a homeschooler) in any of these spectacular characters? As a former homeschooler and a (now) homeschooling mom, I see a little bit of myself and my daughter in all of them! Hooray for well-rounded book and movie portrayals that understand how multi-faceted and spectacularly awesome, "weird unsocialized homeschoolers," can be!
Which of these homeschooled characters is your favorite? Do you have other homeschooled characters that you feel do a good job of representing us?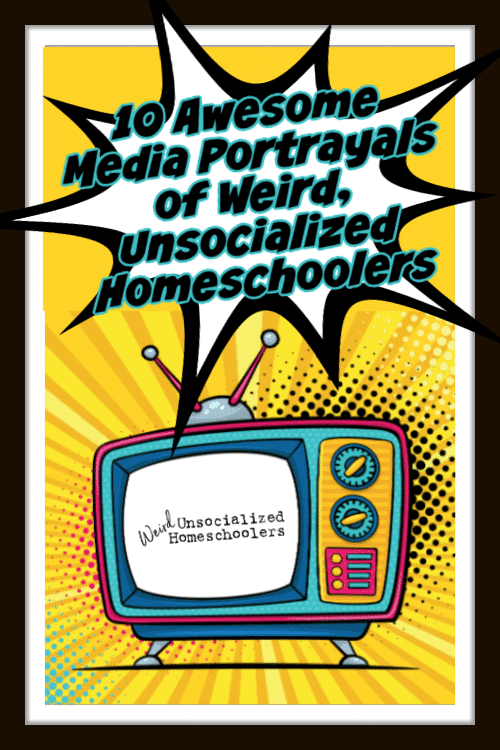 Katie Gustafson has been a member of the world of "weird, unsocialized homeschoolers" for a long time–first as an alumnus and now as a homeschooling mom to a fiercely fun little girl! She's very into anything creative, especially writing, dancing, and painting. She's also particularly passionate about literature and owns more books than she will probably ever be able to read. However, she reassures herself with the belief that, in the event of a digital apocalypse, she's cultivating a much-needed physical library for future generations. Katie is happy to contribute articles to Weird Unsocialized Homeschoolers, Hip Homeschool Moms and Sparketh. She also has a personal blog on writewhereuare.com.