Building Strong Family Bonds Within Your Homeschool
We all want to build better relationships with our kids and relationships begin with connections. By connecting with our children in meaningful ways we are strengthening our parent/child bonds.
But what are some ways to accomplish strong family bonds within your homeschool?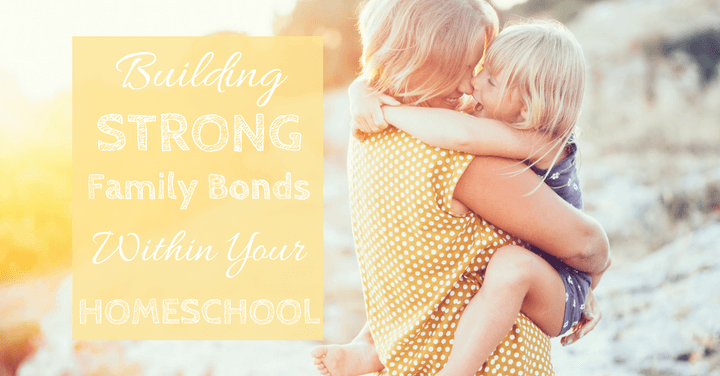 Relationships Begin With Connections
Do you make a point of looking deep into your child's eyes while conversing about things that matter to them? It can be tough for this mom when my child is telling me a story about his favorite video game for the 523rd time, or when he excitedly tells me about some futuristic alien weaponry from a new comic book.
But I realize how important these things are to my son. At 10 years old he's on the cusp of leaving childhood and entering into a whole new era of his life.
Plus if I want him to tell me the important things as he becomes a teen, then I've gotta be interested in his passions. I've got to be that person he can confide in and come to now.
At least, that's my plan.
Then there is my creative and tenacious 5-year-old.
She is passionate about everything animals, art, books, and tea time.
I want her to continue sharing her life with me even as she grows to adulthood.
Crazy fashion choices and all.
Building Strong Family Bonds Within Your Homeschool
It's not always easy to nurture relationships, though. Some seasons of homeschool are harder than others and while I may want to build stronger family bonds I often have to remind myself to be intentional.
My great-grandfather taught me about being intentional with relationships.
When I was a little girl I was building a tree house in my grandmother's magnolia tree. I was having trouble nailing certain boards for the floor into that tree. Across the yard, my grandmother was having trouble with her water pipes. My great-grandfather came to fix her pipes.
When I saw him I rushed to him with my 7-year-old troubles. He asked me what was more important, grandmother's pipes or my tree house. I promptly responded, my tree house! Without argument, my grandfather proceeded to help me fix my tree house floor before going inside to help my grandmother.
[clickToTweet tweet="Sometimes building strong family relationships means we have a tea party instead of a math lesson." quote="Sometimes building strong family relationships means we have a tea party instead of a math lesson."]
Now, I'm not saying that every time my child says their tree house is more important that I'm going to help fix the tree house before seeing to the pipes.
But I acknowledge how that moment left me feeling and how it has stuck with me all these years.
I have never forgotten how my great-grandfather took the time to listen to my troubles, and help me find a solution. I felt heard and understood. I felt an unshakeable bond form.
How To Build Relationships With Your Kids
Listen to your child. Help them find solutions to their troubles. Let them feel heard, even if you don't agree.
Have fun together. Having fun with favorite games, outings, or even pretend play helps build those family ties.
Support your child's passions. Even if your child is passionate about something you have no interest in. Get interested!
Create opportunities for juicy conversations. I find that books and movies are a great place to start. We recently read the book Wonder by R. J. Palacio and had some of the best and juiciest conversations because of it! If you want book ideas, try our Favorite Read Alouds or 25 Books Your Child Should Read After Harry Potter!
Make time for one-on-one time. Make space for things like going on a nature hike, having tea parties, or going to a comic book store. Whatever your child is interested in! These are perfect ways to make your kiddo feel special.
Relationships Take Time And Commitment To Build
I'd prefer it if time would slow down. But it seems the more I wish it, the more I want to hold onto my boy, the more time speeds up and the taller he grows. My daughter is no longer the fiery toddler she once was. I can't stop the passage of time, but I can make sure I'm doing all that I can to build strong relationships with my children as they grow.
Sometimes, that means we'll have a tea party instead of a math lesson.
It takes time and commitment to build loving relationships. Every child is unique so each bond will be also.
How are you building strong family bonds?
Erin Vincent is a homeschooling mom to two intense kids. They are child led with a heavy emphasis on read alouds, games, art, nature hikes, and hands on science! They traded the hustle and bustle of city life for the quiet farm life where opportunities for exploration in nature abound. When they're not homeschooling you'll find Erin curled up with a cup of coffee and a good book!. You can find Erin at Nourishing My Scholar.