10 Questions to Consider When Buying a Computer for Homeschooling
10 Essential Questions to Ask Before Buying a Computer for Homeschooling
Homeschooling can be done in so many ways! It allows parents to adjust to each child's needs and abilities. It gives us the chance to make learning fun and hands-on. And it gives us the flexibility to expose our children to all kinds of learning opportunities!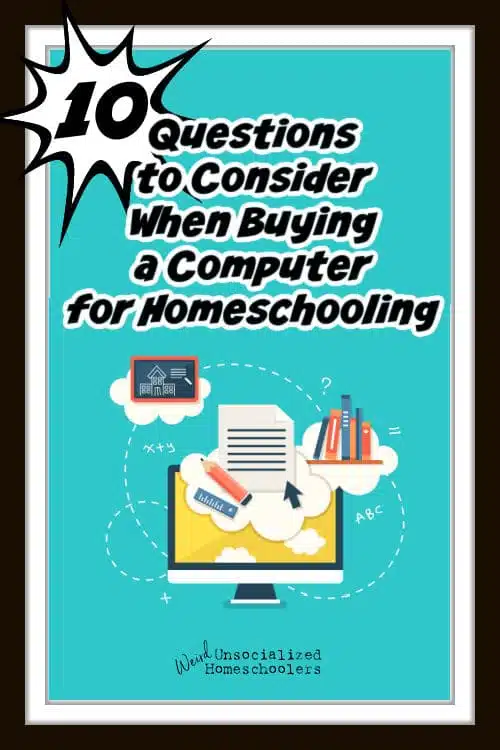 Many of us choose to have our children take at least some online classes or participate in some kind of online learning. After all, children, teens, and adults are expected to be familiar and comfortable with computers, and many jobs require at least some (and possibly a great deal of) use of computers. And if our children go on to college, they will definitely need to be comfortable with and knowledgeable of computers.
And, because of the increase in digital and online homeschool curriculum options, buying a computer for homeschooling purposes is inevitable! It's also something you should carefully consider since you want your students to have a computer that will work well for years and (possibly) for multiple students. And, of course, you want to be sure you get the best value for your money! (We homeschoolers are often well-known for being frugal, and buying a computer is an important investment!)
NOTE: This article is sponsored by Dell. To take advantage of their Educational Discount Program, please click this link for more information.
Purchasing the right computer for homeschooling and wisely spending money is a big concern.
It is frustrating to buy a computer only to find out there isn't enough memory or the graphics capability isn't adequate, and upgrades are needed to meet technology needs.
Or…
Sometimes, we purchase a computer for our homeschooling needs with more features and a higher price tag than necessary.
To help guide you in choosing the right computer for homeschooling, there are some questions you'll want to ask yourself.
10 Must-Answer Questions to Ask Yourself Before Buying a Computer for Homeschooling
1. Will the computer be exclusively used for homeschooling?
If you have plans to use this computer for gaming in addition to homeschooling, you will need to make sure the computer you plan to purchase for homeschooling also has the processing, memory, and graphics requirements needed for gaming.
You may want to consider a computer specifically built for gaming. A computer such as the Dell G15 Gaming Laptop is highly capable of meeting your family's educational needs and is a fantastic computer for gaming too!
2. Who will be using the computer, and will it need to be used in different rooms of your home?
Does your family need a laptop rather than a desktop as the computer for homeschooling? A teen enrolled in a live online class may need a quiet area to go to during class while you complete lessons with younger children. If so, the computer may need to be mobile.
3. Are you enrolling one or more of your children in a live, online class or a self-paced course?
Online classes come in a variety of formats. Some are self-paced, where your student completes the lectures and assignments on their schedule and at their own pace. Online classes can also include attending a class live and in real-time using platforms like Zoom.
If your student takes online courses, it's important to consider how that student will communicate and interact. Specifically, the laptop will almost certainly need a microphone and camera. It makes sense to consider a setup like Dell's Stereo Headset to make communication and interaction clear and easy to achieve.
If more than one child will be taking online or self-paced courses, will they attend class together (on the same computer)? Or will they need separate computers?
For various current self-paced curriculum portals, the operating system version and browser are two of the most important factors. For best results, you should have a computer for your homeschool that runs the most current version of Windows or iOS and the most current version of a preferred browser.
While a recycled 12-year-old desktop from a friend, family member, or library sale may work for typing research papers or using CDs, it may require hardware and software upgrades to function for an online learning platform.
4. What Operating System (OS) does your online curriculum require?
If you are looking to purchase a used computer or are acquiring one for free, verify that it will function for any digital or online curriculum. Once we were given a ten-year-old laptop, and it ran Windows XP! It was fine for composing papers in Word but simply would not work for our online high school math class.
We purchased our teen a new laptop that was used to finish out high school. The same student was able to take the laptop to college two years later. Remember that some operating systems may be considered to be stylish and "cool," but are these frequently found in engineering or computer science programs? This is an important consideration!
5. Will you be carschooling while waiting at music lessons or sports practice?
Check the battery life specs of any laptop you are considering. Speaking from experience, I can tell you that older laptops begin to lose their capacity for holding a charge. A new computer may cost more dollar-wise but cost less in frustration and lost schooling time while on the road.
6. Are there any special needs in your family?
If your family utilizes assistive technology while using a computer, verify that the technology will work with the new computer. You may need to purchase an inexpensive adapter for attaching an older AT device to a new computer with a USB C-only port. (For example, you may need a USB C to USB 3.0 adapter that is readily available on Amazon.)
Verify that the monitor specifications will work for any family member who needs visual accommodations.
7. Will your student be learning to code online or learning a CAD (computer-aided design) program?
STEM is a high-interest area for both students and parents. Online coding lessons are available now for early elementary through high school grades. These platforms use computer resources, and if your computer is not properly equipped, it will be frustrating for you and your child. In addition, the platform may not fully function if there aren't enough system resources.
Research some coding platforms and look for the system requirements.
8. Is dual enrollment or college coming up soon?
Homeschool teens have so many options now, including work-from-home internships and dual enrollment opportunities that may require a computer or laptop. Plus, if your teen is a year or two from entering college, they will need a laptop. If they have a few colleges in mind, check the school's minimum requirements before you purchase. If using the Dell education discount, it may be an excellent time to go ahead and make that purchase.
9. Do you need the Microsoft Office Suite?
If you are looking to purchase a used computer, does it have the Microsoft Office products that your students will need for homeschooling? Otherwise, you will need to buy the software. A significant advantage of purchasing new is that you avoid those unexpected costs of getting the computer updated to meet your family's needs.
10. Will you need a protection plan?
If you are purchasing a laptop that will get heavy use (i.e., be moved around a lot, be used for carschooling, etc.) or will be "well loved" and well used, it's easier to get an affordable protection plan on a new computer. For example, Dell offers a service and support option that provides for a technician to come to your house if necessary. Some models may come with a free one-year protection plan, which isn't available with a computer purchased from a friend or local organization.
Something to Keep in Mind When Buying a Computer for Homeschooling
In the end, purchasing a computer for homeschooling that has the current hardware and software technology may very well save you money and frustration.
When buying a computer for homeschooling, doing our due diligence is essential. Sometimes what looks like a deal may end up costing more money, time, and frustration in the long run. Hard-earned money used to buy a computer for homeschooling your children is an investment that should serve your family for years.
To save even more on a great computer for homeschooling, please click this link to find out more about the Educational Discount Program!
FREE Planning Sheets for Online Learning & Buying a Computer for Homeschooling
Should I buy a computer for homeschooling? Do we even need a computer to homeschool? Which computer is best for homeschooling?
All of these are questions we each ask sometime along our homeschool path. You may not be using online classes, self-paced classes, or a streaming homeschool resource, but most likely you will be before your first homeschooled child graduates high school.
We have put together some planning sheets to help you navigate online learning resources and technology with our Online Learning Planner sheet and a Shopping Comparison Sheet.
To find your free planning sheets, please click the link below.
To Take Advantage of Dell's Educational Discount Program and Get Guidance on What to Buy
To Look and Buy Online
If you'd like to take advantage of the Educational Discount Program offered by Dell, just click this link! You'll receive a discount code to use on your purchase.
To Call and Talk to Someone Who Can Help You
If you'd rather call and talk to a person who can give you guidance on what to buy, please call 888-693-9448. When you call, please give them your Member ID Number (530025564035) so they can apply your discount. (If you forget or can't find the Member ID Number, they can look it up.)
To Get Help by Email
Or if you'd rather email someone and get guidance that way, please email [email protected] to ask for help.
I think you'll find that Dell has made it easy to get help in whatever way you like best! Feel free to call and ask for guidance on what to buy. And they will also walk you through the purchase process if you'd like help with that.
On a personal note, I'm thankful that Dell is extending this educators' discount to homeschooling families! I've been homeschooling for 26 years, and many times I'm had to fight for the right to receive an educators' discount from various companies. I very much appreciate that Dell sees homeschooling parents as the educators we are!
Other Related Resources to Read Before Buying a Computer for Your Homeschool
If you want even more information about incorporating technology into your homeschool, you'll enjoy these articles:
To Homeschool Successfully, You Need Technology
5 Ways to Help Your Kids Succeed in Online Classes