Easy Cookie Cutter Bird Feeders for Kids
What better way for children to take care of their neighborhood birds than with some easy cookie cutter bird feeders! We enjoy nature and nature studies all year round. You can check out my post 8 Tips for Nature Study to see how we love incorporating nature into our daily lives.
Nature study and bird study, in particular, is so much easier when it happens right in your own backyard! To be able to look out of your window and observe the beauty and habits of our feathered friends is both entertaining and educational.
Grab a sketch book and field guide and prepare to enjoy the sights while the birds enjoy this yummy treat!
Ingredients for Easy Cookie Cutter Bird Feeder
Cookie cutter bird feeders are easy to make, but they can take a bit of time to set. Follow these directions, and your kids will get to enjoy the hands-on experience of making these fun treats for the birds.
Ingredients:
3/4 cup flour
1/2 cup water
1 envelope unflavored gelatin
3 tbsp. corn syrup
4 cups birdseed
Assorted cookie cutters/molds
Nonstick Spray or Cooking Oil
Drinking Straws, cut to size
Waxed Paper
Twine/ Ribbon
Easy Cookie Cutter Bird Feeders for Kids
Step 1: Mix flour, water, gelatin and corn syrup in a large mixing bowl. Stir until well-combined.
Step 2: Stir in birdseed, coating the seed with the flour mixture. This mixture gets extremely thick, so your kiddos may need a bit of help stirring.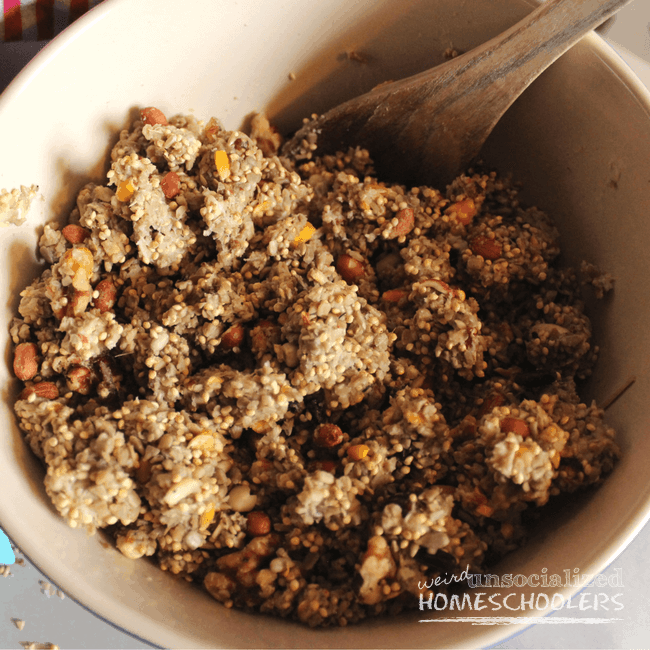 Step 3: Spray the cookie cutters with non-stick cooking spray or, as in our case, let your children wipe the cookie cutters down with cooking oil.
Step 4: Spoon the birdseed mixture into each mold. It was easier for the children to simply grab handfuls of the birdseed mixture than bother with the spoon. After their cookie cutter was filled, they pressed down on it to make the mixture as flat as possible.
Step 5: Poke a hole through the center near the top of each birdseed mold, making sure it goes all the way through, leaving the straw in until the mixture is set.
Step 6: We left our birdseed molds to sit overnight. The next day we gently removed the cookie cutters and straws from our molds and set them on wax paper. Then we took a bit of twine (about 6 inches per mold) and tied it through the hole the straw had left.
Step 7: Hang on a favorite tree for the birds to enjoy!
I also recommend keeping a bird guide or two handy so that you can identify your feathered visitors with your kids! Some of our favorites are:
If you enjoy the cookie cutter bird feeders, you might want to try some DIY bird feeders made from recycled materials.
What are some of your family's favorite ways to attract birds to your yard?
This post is linked to the Hip Homeschool Hop.
Erin Vincent is a homeschooling mom to two intense kids. They are child led with a heavy emphasis on read alouds, games, art, nature hikes, and hands on science! They traded the hustle and bustle of city life for the quiet farm life where opportunities for exploration in nature abound. When they're not homeschooling you'll find Erin curled up with a cup of coffee and a good book!. You can find Erin at Nourishing My Scholar.