How to Easily Add Hands-on Learning to Your High School Homeschool
Are you homeschooling high school? Even high school students benefit from hands-on learning. And there are ways to easily add more hands-on learning to your high school homeschool!
When we first began homeschooling ten years ago, I was determined to help my boys learn in fun and engaging ways. It was one of the reasons we decided to homeschool in the first place! I distinctly remember telling my husband how excited I was about project-based learning and how valuable it would be for our children's education.
Then, I actually started homeschooling.
Written by Shawna of Different by Design Learning.
I quickly realized that hands-on learning was not as easy to implement as I'd imagined. Our first year was filled with me vacillating back and forth between dissecting a fish or giving up in the form of another worksheet I knew they'd resist.
I am happy to say that eventually, I figured out how to more easily incorporate hands-on learning into our homeschool.
Here's why.
For my boys, hands-on learning has been essential for their engagement in our studies and in their overall retention of what they are learning. They need to experience a topic in order to really understand it.
They are not alone in this. Research has shown, over and over again, that a multi-sensory approach to learning is far more impactful than a more formal approach.
A 2003 study found that multisensory instructional resources significantly influence academic achievement, lead to improved attitudes towards learning, increase empathetic response, and indisputably yield a greater transfer of skills. – LearningAbled Kids
I think we all know this to be true for younger kids. Take a look at Pinterest boards, and you'll find thousands of activities for kids ages ten and under. But what about hands-on learning for middle school and even high school? It is no less important to provide multi-sensory, hands-on learning for older learners, but figuring out a way to consistently incorporate it into teenager-appropriate learning activities can be exhausting (at best!).
Once my boys turned 12 or so, hands-on learning suddenly became much more complicated. Finding a high school level curriculum with built-in multi-sensory activities felt like searching for a unicorn. Even worse, when I did find something I thought might work, my boys quickly turned up their noses and declared it "too babyish." While it was difficult to find anything that fit our needs, the reality is my boys still very much required this type of approach to learning in order to be successful.
With this in mind, I want to share with you what I have learned about incorporating hands-on activities into older kids' learning.
How to Easily Add Hands-on Learning to Your High School Homeschool
1. Add a Map
This is, by far, my number one tip and the easiest of all. Whether we are watching a history documentary, reading a story, or even just listening to the news, adding a map to our learning instantly creates an easy, multi-sensory learning experience. We have a large map of the world up in our house and a dry erase marker right next to it. Any time we hear of an interesting location or discover something new about another country, we locate and mark it on our map.
Last month, I even challenged my youngest son to find all the cities associated with the world's top Overwatch League Teams. It was a great way to practically take a more hands-on approach to geography (and it was super easy for me!).
2. Get Cooking
This tip is a lot like the map one. With anything, and I do mean anything, we come across in our learning, we try to cook interesting or unusual recipes that relate.
For example, we read Bram Stoker's Dracula as a part of our October learning. In it, the narrator mentions trying various Romanian dishes for the first time. Later that week, my boys looked up recipes, made a grocery list, shopped for ingredients, and recreated the dishes.
This may seem simple, but I find that incorporating cooking into our learning does not just work on the actual life skill of preparing food. It also solidifies my children's understanding of what they've read and deepens their appreciation for what they've learned.
3. Incorporate Project-Based, Interest-Led Learning
As my children have gotten older, their requests of me have changed.
What used to be, "Momma, let's play together!" has turned into, "Do you think we could build a rock climbing wall in the backyard for practice?"
I am learning that these projects provide ample, big kid-appropriate learning activities for my growing boys. Rather than panic at the thought of power tools, I focus instead on the math practice involved in "measuring twice and cutting once." It's a natural, interest-led way to encourage hands-on learning.
4. Accept That Bigger Kids = Bigger Messes
As you can imagine, my backyard is covered in sawdust as my son works on the last few steps of his construction project. My kitchen is also a disaster as my boys struggle to recreate complicated meals.
I want to warn you that bigger kids create much bigger messes. I also want to encourage you not to freak out. The good news is, bigger kids can also help clean up their much bigger messes!
While it hasn't been easy, finding ways to add hands-on learning to our homeschool, even in the high school years, has paid off. My children are less likely to grumble, and they learn more in the process.
The truth is, it's more fun for all of us!
How do you add hands-on learning to your high school homeschool? Leave a comment to let us know! Or tell us which of these ideas you plan to implement!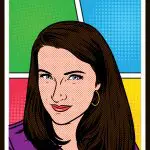 Shawna Wingert is a special education teacher turned writer, speaker and consultant. She is also a homeschooling mom of two brilliant boys with differences and special needs. Shawna has written four books for parents of special needs – Everyday Autism, Special Education at Home, Parenting Chaos and her latest, Homeschooling Your Child With Special Needs. She has also been featured in special needs discussions on Today.com, The Mighty, The Huffington Post and Autism Speaks. You can find her online at DifferentByDesignLearning.com. You can follow Shawna and Different By Design Learning on Pinterest, Facebook and Instagram.