Historical Conquest: The Secret to Getting Teens & Tweens Excited About History
"History is boring." Oh, how those words make me cringe. History is fascinating! It's my favorite subject to study and to teach. That wasn't always the case, though. I remember saying those same cringe-worthy words to my grandfather when he tried to share his love of history with me.
History is kind of boring when we try to teach it will a dull, dry textbook full of names and dates to memorize. But when you use engaging biographies, historical fiction, and documentaries to learn the stories of the people and events that make up history, the subject comes to life!
Adding hands-on activities and games is the icing on the cake.
Adding in the fun stuff is easy with young kids. There are all kinds of craft and project ideas for elementary-age students. When kids get older, it can be much trickier to find activities that interest them and legitimately enhance learning rather than just being an activity box to check.
That's why I've been so impressed with Historical Conquest.
What Is Historical Conquest?
Historical Conquest is a strategy-based card game that is perfect for engaging teens (and adults) and piquing their interest in history without being an "in your face" history lesson.
When the game first arrived, I thought it looked really similar to a game that Brianna played for several years, Magic: The Gathering. It turns out that Magic is one of five games that inspired Historical Conquest. The other four are Risk, Pokémon, Yu-Gi-Oh, and the video game, Civilization.
Do you have a kid who loves any of those games or similar ones? They'll love Historical Conquest! Each player uses a starter deck of 50 cards to build unique civilizations that battle for supremacy.
I'm not going to lie. (Because, you know, I try not to do that.) I let the game intimidate me at first. The packs of cards sat, unopened, in our dining room for a couple of weeks.
There really was no cause for the intimidation. If I had asked Brianna to look at the directions, we'd have been playing in five minutes. The average 10-year-old who is into Pokémon or Yu-Gi-Oh probably could have had me playing in five minutes.
That initial intimidation turned out to be one of the things I like best about Historical Conquest – it's not a childish game. It's designed for ages 8 and up, but teens and adults will definitely enjoy this one. There are already Historical Conquest tournaments around the country.
How Do You Play Historical Conquest?
Each player starts with a deck of 50 cards which include the following color-coded types:
land
army
character
explorer
event
technology
knowledge
location
organization
document
Each card has a specific purpose and ability in the game. First, you pull out the land cards and place them in a stack. Then, each player draws five cards to begin building his civilization. The first round is just civilization-building, and no one can attack. The real action starts in subsequent rounds.
Players earn morale points. The winner is determined when one player reaches the maximum morale points or conquers all of his opponents countries.
Morale points are earned based on the abilities and actions of the cards. Each card has a specific ability based on the real-life strengths and weaknesses of the card's character. That's where cool history stuff comes into play. One warrior may have been great at attacking other lands, but not so great at defending his own. You begin to learn about the players in history as you encounter their abilities in the game.
Each starter deck comes with a detailed instruction sheet. But if you're like me, you'll love what's on the back of each starter deck box – a QR code that you can scan to go directly to a video where game founder Zack Edwards shows you how to play.
That's what I'm talking about! I hate reading through game instructions. I'd much rather someone just let me watch them play or walk me through a round or two.
Don't let the length of the video intimidate you. It's almost 30 minutes long, but at least half of that is just Q&A with tips and tricks for playing the game. It's not so complicated that it takes half an hour of instruction to start playing. Really.
What We Liked about Historical Conquest
As with similar games, players can customize their Historical Conquest starter decks. The starter decks (currently there are six to choose from) cover a range of historical events from throughout history. The expansion packs are decks of 20 cards inspired by specific historical events such as World War I or the Crusades.
Expansion packs are perfect for a kid who loves a particular era or for introducing a period or event you'll be studying.
The graphics on the cards are phenomenal. Each includes a snippet about the person or place featured and lists their abilities, historical era, and other details.
You don't have to have the game mats to play, but we really like them. They make the game a bit easier to understand as far as remembering which cards go where. The mats make the game a breeze to score because it has the morale points printed across the top. (It's cool because it looks like a timeline.) You just need something to use as a marker, and you're good to go.
Historical Conquest isn't a game you're going to play once or twice and then get bored. Because of the variety of cards and the ability to customize your deck, each game is unique.
[clickToTweet tweet="With the variety of cards and ability to customize decks, each Historical Conquest game is unique." quote="With the variety of cards and ability to customize decks, each Historical Conquest game is unique."]
I love the enthusiasm of the game's founder. He has a Historical Conquest YouTube channel with lots of Q&A videos and tips and tricks for more advanced players (or for becoming a more advanced player). There are also videos that homeschooling moms are going to love – suggestions for educational ways to use Historical Conquest!
There's also a Historical Conquest blog and a free 8-day course so that players can really delve into the game.
Historical Conquest is a fantastic way to show kids how fascinating history really is without making it seem like you're trying to cram a history lesson down their throats. In the instructional video, the game's founder talks about getting a friend who loved Magic but hated history to play Historical Conquest. The friend loved it!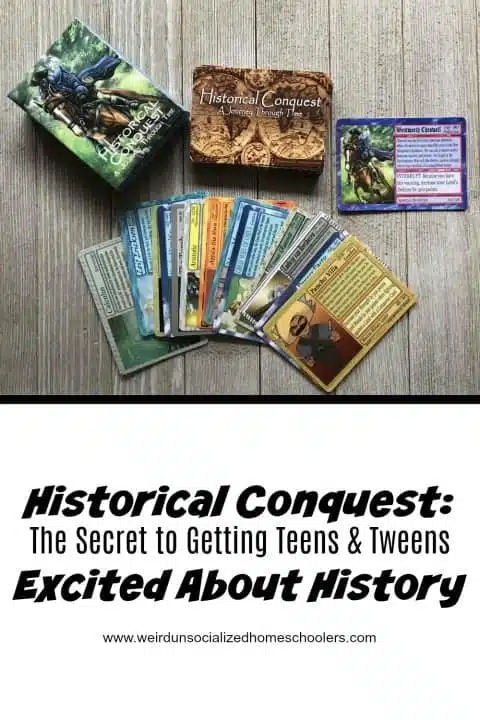 If you've got kids who love Pokémon, Magic, or Yu-Gi-Oh, they'll love Historical Conquest – but, you don't have to be a fan of those games to enjoy Historical Conquest. You don't have to be a kid either!
Visit the Historical Conquest site to purchase a starter pack and get started!
You Might Also Like
Kris Bales is a newly-retired homeschool mom and the quirky, Christ-following, painfully honest founder (and former owner) of Weird, Unsocialized Homeschoolers. She has a pretty serious addiction to sweet tea and Words with Friends. Kris and her husband of over 30 years are parents to three amazing homeschool grads. They share their home with three dogs, two cats, a ball python, a bearded dragon, and seven birds.