The Most Fun & Unique Homeschool Spanish Curriculum Ever: Excelerate Spanish Review
"In every job that must be done, there is an element of fun. You find the fun, and – SNAP – the job's a game!" – Mary Poppins
Some kids find it easy and enjoyable to learn a new language. My son is NOT one of those kids. From an early age it was a challenge for him to read, write, and speak clearly. Over the years he has participated in vision and language therapy to help address his dysgraphia, dyslexia, and other learning challenges. For him learning about languages is hard work.
We have always had to search for "out of the box" type programs to help my son learn. Earlier this year we found an innovative homeschool Spanish curriculum called Excelerate Spanish by Caryn Powell Hommel. FINALLY we found a program that helped my son learn Spanish. Excelerate Spanish is the most fun and unique homeschool Spanish curriculum we have ever used!
I received this product free for the purpose of reviewing it. The opinions expressed are my personal, honest opinions. Your experience may vary. Please read my full disclosure policy for more details.
Finding an Engaging Homeschool Spanish Curriculum
As I mentioned, my son has struggled with language lessons for years. Now, as a teenager, he is making great strides in his verbal and written English communication skills, but he still has a BIG concern. He wants to learn a foreign language, but the thought of workbooks, vocabulary flashcards, and conjugating verbs fill him with stress and anxiety.
Traditional curriculum with textbook and worksheets rarely work for us. In addition to addressing my son's language challenges, we also look for programs to support his hands-on and visual learning styles. He can't pick up a workbook and work through it independently like a lot of other kids. He responds best when he can actively participate in learning activities.
As a homeschool mom I've searched for foreign language curriculum options and signed-up for trials of numerous online and in-person programs. My son always holds out hope and gives each program a good try, but ultimately he gets frustrated with each new attempt.
Several months ago we were introduced to Excelerate Spanish. Caryn, the program creator, is an experienced teacher, homeschool parent, and author. Personally, I love curriculum that is created by other homeschool educators – to me it means another homeschool mom was faced with a challenge about how to help children learn a subject, she used her knowledge and background to figure out a creative solution, and she was willing to share her experience with others.
After viewing the introduction video for Excelerate Spanish with my son we were literally grinning from ear-to-ear! We have never seen a program that intentionally uses humor and physical movement to teach language. We couldn't wait to start using Excelerate Spanish!
About Excelerate Spanish
Remember when I said Excelerate Spanish is an innovative and unique program? What's funny is that even though it's not like most traditional foreign language learning programs, it is actually one of the most practical and straightforward programs I've experienced.
Rather than using drills and repetitive grammar exercises, Excelerate Spanish uses language from real life, with real context, that is related to real social situations. All of these real life language activities are combined with physical movements to help the brain learn as naturally as possible. Why didn't anyone think of this sooner?
The concept I found most fascinating about this program – the physical movements and humor were added to this program based on solid brain research. Caryn doesn't overwhelm parents with detailed scientific jargon, but she does provide information about the multi-sensory teaching methods incorporated in the program known as TPR (Total Physical Response) and TPRS (Total Physical Response Storytelling).
Basically, these teaching methods closely resemble children's early experiences in language learning. Not only do children find these activities to be fun and interesting, the actions ultimately enhance retention.
Excelerate Spanish Lesson Format
So how are you, as a homeschool parent, supposed to teach Spanish to your child in a way that is fun and engaging? It's easy – you pop in a DVD and learn along with your child!
The complete Excelerate Spanish program includes:
4 DVDs containing a total of 24 lessons
Lesson Book with suggestions for using the program in a group or homeschool situation as well as the content (words and questions) included in each lesson
Workbook with creative extension activities such as puzzles, games, scavenger hunts, and more to supplement the video portion of the lessons
Answer Key provides answers for the Workbook exercises
All lessons are provided on the DVDs and are led by the program creator. Each lesson includes about 45 minutes of instruction, however you are encouraged to take your time and introduce each lesson over a period of several days (or weeks). Pausing, rewinding, and repetition are key to success with the program.
Lessons include:
Vocabulary words and phrases – When the video teacher introduces new words and phrases she writes them on a board, speaks them, and demonstrates a corresponding physical action. Students are encouraged to repeat the words and gestures. This is my son's favorite part of the program. Repeating the words and getting up and acting out the physical gestures really helps him remember what he is learning.
Skit (Dramatizacion) – A clever skit is included and students in the video act out the skit using funny props and gestures. After the skit is complete the teacher asks students to answer several questions based on the skit. After your children watch the skit they are also encouraged to gather their own props and act it out for themselves.
Lectura and Workbook – For further practice students can read a related story (lectura) and answer "Si o No" questions to check for understanding. The Student Workbook also offers a variety of activities for additional practice using the words and phrases learned. Because there are many different activities to choose from my son is able to pick the ones he enjoys the most – just having that flexibility and choice makes the lessons more personalized and effective.
Why We Recommend Excelerate Spanish
As you can see, this program has been a great fit for our family. We have been telling our friends about it because we believe it has a number of benefits for homeschool families, such as:
Excelerate Spanish lessons can be used with a wide range of ages. The video lessons include children from elementary though high school age. This is a fun program to use to learn Spanish together as a family. Honestly, I have been watching and participating in the lessons with my son and I can't believe how much I have learned already!
The program is easy to use. Just start the DVD and you are ready to go. The Lesson Book provides suggestions for schedules and ideas for incorporating the workbook activities but no additional planning, preparation, or supplies are needed.
The words and topics covered include real life situations and offer appropriate context. Lesson 3 is about going out in a storm so we have learned words/phrases such as – the window, it's raining, here is, puts on, the house, and more. After just a few lessons my son has been able to identify words on signs and recognize words he hears in conversations.
If you would like to learn more about this unique program I would encourage you to view the Excelerate Spanish introduction video. This video gave us a first-hand look at the program and was a great inspiration to help us get started. For more information and to view the video, visit Excelerate Spanish today.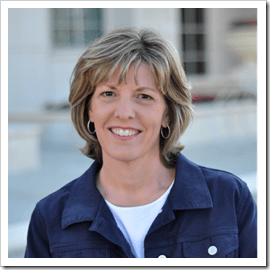 Susan Williams is a wife, mom of two teen homeschooled boys, and a co-founder of
EducationPossible
, a website for sharing creative, hands-on learning activities for middle school. As a veteran educator she has taught in corporate, college, and various homeschool settings. Susan enjoys traveling with her family, sharing ideas with other moms, and helping her children explore the world around them (and as Floridians that usually includes spending time at one of their favorite worlds – Walt Disney World).
This article was written by a Weird, Unsocialized Homeschoolers guest author. See the author's full bio in the body of the post.