Make Creative Writing Engaging and Magical!
Online creative writing can be both engaging and magical with a language arts program that knows just how to get reluctant writers from staring at a blank page to actively writing in ways they never have before! Check out how games and imagination bring writing, grammar, and spelling to life with Night Zookeeper!
*Disclosure: I was asked for an honest review of Night Zookeeper. I was compensated for my time. As always, all thoughts and opinions are my own. I only choose to share resources that I would use with my own family and those that I believe other families will enjoy and benefit from.
Homeschooling Reluctant Writers
For many children writing is a dreaded chore, while for others, it can be downright painful. These are the kiddos that need an extra boost of confidence and fun. Children need to see how magical writing can be and how expressing our thoughts are not a cause for fear or anxiety but a release of reactivity and imagination.
My daughter LOVES copywork and coming up with fanciful stories for me to scribe for her. She'll even draw pictures to go along with her stories! But she isn't physically writing stories on her own yet. Of course, she'd much rather be doing her arts and crafts than writing. What creative 8-year-old wouldn't?
My son has been a reluctant writer from day one. He tends to stare at the page blankly before throwing his hands up in the air and saying, "I don't know what to write!"
That's been a hard pill for me to swallow because this kid is brilliant! But he struggles with getting his thoughts onto paper. This year we are focussing heavily on his writing skills while still trying to keep it fun without the overwhelm.
So I'm always looking for new and exciting resources to help my son and daughter on their writing journeys. I recently discovered Night Zookeeper and thought it could be an excellent addition to our homeschool writing endeavors.
Online Creative Writing Language Arts Curriculum
Night Zookeeper is an award-winning creative writing platform that helps improve the writing skills of 5-12+ year olds. But it's so much more than that!
There are plenty of reading and writing programs available for kids. And for many, these programs work just fine. But for other children, especially reluctant writers, struggling readers, or kids who need extra help in the language arts department, Night Zookeeper is a gamechanger because it is a game-based language arts curriculum that sparks imagination and creativity!
Game-Based Homeschool Writing
With Night Zookeeper, kids draw magical zoo animals that go on their interactive journey through the Night Zoo. That's right; there is a fun drawing aspect to this online creative writing curriculum! Perfect for my daughter, who loves to draw, and fun for my son too! The Night Zoo is filled with some of the most magical and bizarre animals you've ever seen!
Your kids will help the zookeeper, Will, and his friends, as they try to protect the zoo from the evil Lord Nulth and his robotic monsters called the Voids. They are trying to steal the Night Zoo's colors. In return for looking after the animals and completing activities, your children will collect orbs. Orbs help you to power up or they can be cashed in to buy new animals to add to the zoo!
With over 1,000 different learning games and activities, your children will practice grammar, spelling, vocabulary, and sentence structure! I've said it before, and I'll repeat it again, games are a fantastic way to enhance learning in your homeschool! Night Zookeeper hits the ball out of the park with this one!
Night Zookeeper Parental Controls and Information
To get all of the important information for parents, download the Night Zookeeper Parent Guide. There you'll find details about how to get started, saving your child's work, the zoo menu guide, information about challenges and competitions, how to set up and use the parent dashboard, privacy settings, and more!
Here are a few things I personally love about my kids using Night Zookeeper:
From the parent dashboard, I can monitor my children's writing, achievements, and feedback from their tutors.
I LOVE that this is a SAFE and MONITORED environment with no ads. No photos can be uploaded either. Instead, kids draw their own fun avatars as their profile pictures.
There is a communal aspect in which kids can compete with other kids worldwide with an online writing competition!
Kids can also comment on each other's work. Comments are strictly monitored.
These competitions offer real prizes like books and card games!
Future authors can also compete to have their work published in the Night Zookeeper books!
Online Creative Writing with Night Zookeeper for Older Kids
Night Zookeeper is geared toward 5-12-year-olds. So, would it work for 13 and 14-year-olds?
You know your kiddos best. However, I saw progress in my reluctant 14-year-olds writing abilities. My son enjoys the program and requests it every morning. He is presented with writing topics and writing prompts in small bite-sized chunks. After just three days, he had already written three different drafts culminating in over 200 words.
200 WORDS!
He has written about his animal creation, the Fri Bird, his favorite books, and a news report! After a week, he had seven submitted projects and over 500 words. The same kid that struggles to get words onto a page is writing without my nagging or prodding!
That's progress, folks!
Benefits Night Zookeepers Online Creative Writing
The online creative writing benefits of Night Zookeeper are vast and far-reaching.
Improved core writing skills

Creative drawing

and the creation of zoo animals are so much fun.

FREE monthly printables

that follow the online gameplay.

Game-based

interactive spelling games, and grammar lessons

Children are encouraged to explore

many different forms of writing

, including stories about magical animals, recipes, newspaper articles, persuasive reports, poetry, and letter writing.

Weekly Lessons that incorporate interactive video elements and games to teach your children key skills. ‍

Online writing

competitions

with kids from around the world are a fun bonus.

Positive feedback

from a dedicated team of tutors with encouragement for your kids on improving their writing is super helpful.

Publishing opportunities

for kids in Night Zookeeper books is an exciting possibility.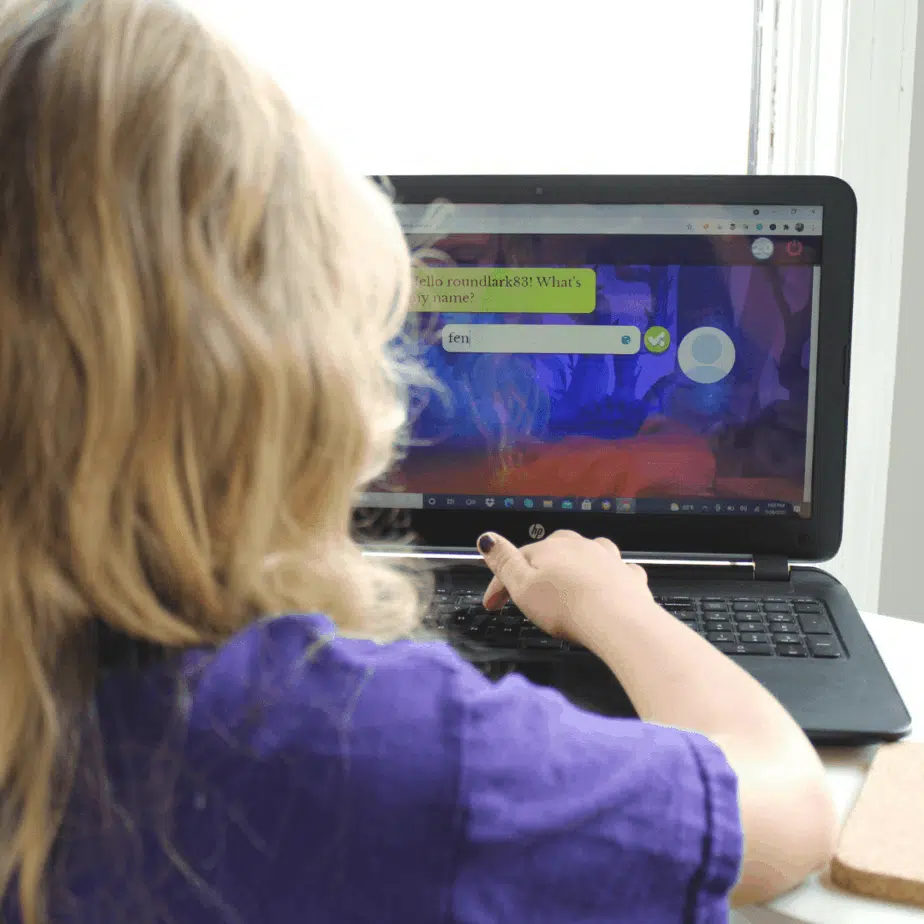 Engaging Online Creative Writing with Night Zookeeper
I am thoroughly impressed with Night Zookeeper! It could be used as the sole language arts curriculum for homeschoolers because it covers reading, writing, spelling, vocabulary, and grammar. We used it for about 30 minutes each day per kid. Though it is said that only 30 minutes per week to a few hours per week will suffice. You could also use Night Zookeeper as a supplement to your current program because it will help your kids build on their literacy skills in such a delightfully fun way.
Some Reasons I Think Night Zookeeper Is a Fantastic Resource for Homeschoolers:
Short writing challenges take the overwhelm out of putting words onto paper.

It sparks the imagination with its gamified writing process.

Reluctant writers

will find this program helps boost their confidence while providing them with

highly engaging

tools and

encouragement

to help them write their thoughts and ideas down.
Night Zookeeper Special Offer
Be sure to check out this unique online creative writing resource for your reluctant writers! Right now, Night ZooKeeper is available at $59.99 for the year for a single child subscription and $77.99 for 2-3 children. (NOTE: This offer may have ended. Please check with Night Zookeeper for current pricing information.)
More children can be added at a bespoke price.
People who sign up get a free 7-day trial and then get 50% off on the yearly subscription.
Erin Vincent is a homeschooling mom to two intense kids. They are child led with a heavy emphasis on read alouds, games, art, nature hikes, and hands on science! They traded the hustle and bustle of city life for the quiet farm life where opportunities for exploration in nature abound. When they're not homeschooling you'll find Erin curled up with a cup of coffee and a good book!. You can find Erin at Nourishing My Scholar.