10 Fabulous Nature Games to Add to Your Nature Study
Do you have a nature lover in your family? My children and I would all much rather spend the majority of our time out of doors. But sometimes, Mother Nature doesn't want to cooperate.
Try these 10 fabulous nature games to play as part of your nature study when you can't get outside or when you come in from a long day of hiking!
Written by Erin Vincent of Nourishing My Scholars.

This post contains affiliate links. See full disclosure policy for more details. Email and RSS feed readers may need to visit the blog to access affiliate links.
Why You Should Add Nature Games to Your Nature Study
As the weather warms, you may find yourself eager to get outside and into the warm sunshine. These Easy Spring Nature Study Ideas are a great way to give your nature study a kick start.
So, why should you add Nature Games to your nature study?
You can't always get outside for a nature walk
Your kids can play an educational game while eating lunch or while mom is making dinner not just during "school" time
Games offer ways for kids to practice what they've learned
After coming in from a long day, a game gives your kiddos a fun and educational way to unwind
Games offer a hands-on learning opportunity for kinesthetic learners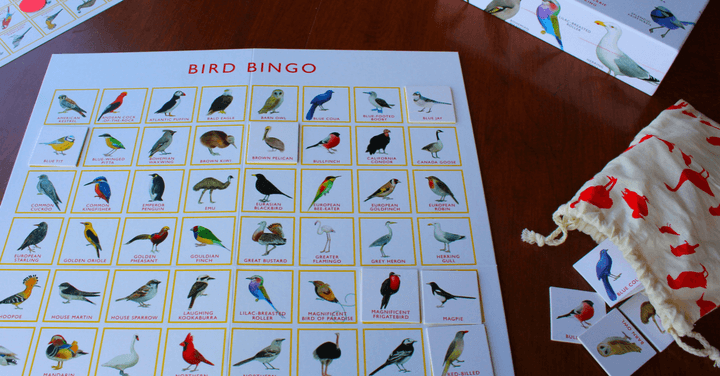 10 Fabulous Nature Games to Add to Your Nature Study
Bird Bingo Game – This is a BEAUTIFUL bingo game that showcases birds from all over the world. It's actually one of MY favorite family games. Think your kids can't enjoy a bird study based on a bingo game? Think again!
My children have been pointing out Canadian Geese, Goldfinch, Grey Herons, Cardinals, and Robins out in the wild! They've even pointed out birds on documentaries like the Magnificent Frigate Bird, Great Bustard and the Magnificant Bird of Paradise before the documentary can mention it! This is the perfect game to follow up a bird study.
Bug Bingo Game – The creators of Bird Bingo also have a Bug Bingo game that doesn't disappoint! Bugs from all over the world make their debut in this gorgeous game. For anyone obsessed with bingo, there is also a Dog Bingo, Cat Bingo, and Monkey Bingo game. Just take my money now! This is an awesome game to follow up a bug study.
Hit the Habitat Trail Game – This fun board game takes you through nine habitats, trivia style! It's a favorite of our son's, but he finds it challenging not to blurt out the answers when it's not his turn. But hey, learning to take turns is another benefit of playing games! (This game is no longer available on Amazon. You may be able to find it on the Walmart website or on eBay.)
WildCraft: An Herbal Adventure Game – This is a wonderful cooperative game in which players must help each other travel up the mountain to Huckleberry patch and back down to Grandma's before nightfall. Wildcrafting is the harvest of wild plants which you do in this game to solve problems. Learn which herbal remedies work for certain ailments!
Into the Forest: Nature's Food Chain Game – This lovely game helps kids understand the food relationships between plants and animals in the forest.
Photosynthesis Game – A strategy game to test your skills as you grow your trees through their life cycle of seedling, bloom, and rebirth while using the energy of the sun's rays. This is a great game to follow up a plant study.
Cardline Animals Game – A game to test your knowledge as you place cards in order by either size, weight, or lifespan of animals. (This game is no longer available on Amazon. You may be able to find it on eBay.)
Camp Board Game – A perfect trivia type game for adults and children wanting to test their knowledge on the great outdoors and camping.
Fossil On Game – Learn more about fossils and minerals with this hands-on game! There are five levels of play. My little rock hounds also adore the Rock On Game from the same company. This is a wonderful game to follow up a geology study.
Animal Tracks Game -This is three games in one! Match Animals to their tracks while playing Bingo, Concentration, and Guess the Tracks games. This is a big hit after coming in from a nature hike in which we've found the tracks of animals like coyotes, deer, and raccoons! There are 40 different tracks to match from animals such as otters, wolverines, and wolves, just to name a few.
What are some of your favorite nature games for kids?
You Might Also Like
Erin Vincent is a homeschooling mom to two intense kids. They are child led with a heavy emphasis on read alouds, games, art, nature hikes, and hands on science! They traded the hustle and bustle of city life for the quiet farm life where opportunities for exploration in nature abound. When they're not homeschooling you'll find Erin curled up with a cup of coffee and a good book!. You can find Erin at Nourishing My Scholar.