Preschool Cut Paper Leaf Collage Project
One question I often hear (and ponder myself) is, "What do I do with the younger kids while teaching the older ones?" As with many other families with little ones, a lot of our schooling ideally happens during nap time. But they can't sleep or watch Leap Frog all day, and keeping preschoolers busy during the big kids' school time can be a challenge.
I'm a fan of keeping them constructively busy working (which is not to be confused with assigning "busy work.") In fact, if I don't have something for my three-year-old to do, she'll often mimic the big kids by creating her own "school work." Like practicing her newly learned scissor skills on anything she can hack those dull child-size blades through–such as paper, hair, or baby sister's shirt!
Today I'm sharing a project that both keeps her busy (so I can work with the big kids), and helps develop the fine motor skills she'll need as her school career begins in upcoming years.
Supplies Needed
I gave my preschooler a scrap of colored paper, and the instructions to cut away (keeping the pieces on the table). When she'd cut to her heart's content, we gathered the cut pieces, and saved them in a plastic bag for another day.
The next time I needed a project for her to work on, I gave her a glue stick and some print outs of simple shapes. In this case, we used leaves for fall, but any simple shape would work! Get creative in incorporating other preschool themes or seasonal shapes.
I instructed her to glue the scraps she'd previously cut inside the leaf outlines by "covering all the white spaces" and "trying to stay in the lines."
The project is simple, but a good way for preschoolers to practice their cutting and gluing in a constructive way. She was quite proud of her final results!
To recreate this fun fall leaf collage project, download your free Cut Paper Leave Collage template.
What are some ways you keep your younger kids busy while teaching the older ones?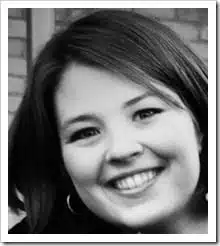 Pam Odd is a homeschooling mom of five,
graphic designer
, and children's literature lover. In her pre-mommy life she taught first grade. She believes we all have some spark of creative ingenuity in us and because of that, everyday life – even with potty training, electricity bills, and dirty dishes – can be creative. You can find her at
Keeping Life Creative
.
This article was written by a Weird, Unsocialized Homeschoolers guest author. See the author's full bio in the body of the post.