When You Worry You're Not Doing Enough for Your Homeschooler
When worry that you're not doing enough for your homeschooled kids eat at, ask yourself these questions to focus on the big picture.
One of the most challenging parts of being a homeschooling mom for me is the nagging feeling that I am missing something. Eight years in and I still battle the worries.
Should I have made him do more math?
What if his reading delays are because I didn't push him to do more?
Am I really doing enough?
Over the past month, I have had the pleasure of working directly with families of non-traditional learners to create individualized learning plans. Because we base these plans on the children's strengths and interests, it requires me to communicate directly with moms about the specifics of their children's learning.
These families blow me away! Every single child has engaging interests and significant abilities that reach far beyond academics. The parents I work with are doing amazing things to help their kiddos succeed, sometimes in the face of difficult diagnoses and challenging learning differences.
Here's the thing – I have been wholly impressed. The moms I have worked with, however, all express the same general concern, one that I completely identify with.
I feel like I am not doing enough.
It's interesting. An outsider looking in is overwhelmed with all the good, and we only see what's not working.
The good news is that through the process of getting to know these families, they have also said that they feel better just answering some strength based questions that are part of the process. If discouragement and or worry are plaguing you today, ask yourself the questions I ask the parents I work with. They'll give you a clear view of the big picture, the true picture.
When You Feel Like You're Not Doing Enough For Your Kids
Take some time to answer the following questions, independent of your homeschool day. Maybe get away to the coffee shop this weekend, or take some time outside in the warmer spring weather. It works best when you can clear your head (and not have someone asking you for a snack) as you reflect.
1. What are your child's natural strengths?
Natural strengths can be anything, from artistic to empathetic. It can even be math! Just take a bit of time to reflect and record what you see naturally happening in your child's development.
2. What is your child interested in right now?
Feel no shame as you answer this. If video games and YouTube videos are monopolizing his thoughts right now, that counts. (And please know, they are not the only ones!)
3. What is one area in need of growth?
Pick one. Not all of the areas. Not all the things that are not working. Just choose one area that you would like to see some progress in over the next eight weeks or so.
4. What are other factors affecting learning?
It is vital that we acknowledge the other factors at play! We are often so hard on ourselves. We worry about the fact that we missed the history lesson today without taking into consideration that everyone had the flu last week and is just getting back on track.
List the other factors affecting learning in your home (i.e., family dynamics, health concerns, new baby, etc.) and then give yourself a little grace. Give yourself the same grace you would give another mom dealing with the same circumstances.
5. What is one word you would use to describe your child's best quality as a learner?
This one is for your heart. It's also for your child's. Think of that time when your child's eyes lit up over something exciting and new. What word would you use to describe them when they are genuinely engaged in learning?
More than anything, understand that if you are feeling discouraged and anxious about your homeschool, you are not alone. And you are likely your worst critic!
Let me encourage you to take a step back and see your learner the way an outsider might. Reflect on what is already naturally working and what you see as potential opportunities for future growth and learning.
You won't regret spending a little bit of time to take a step back and look at the beautiful, big picture before you in your homeschool.
What is one area in which you and your kiddos are killing it today?
You Might Also Like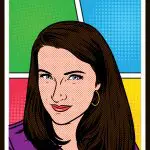 Shawna Wingert is a special education teacher turned writer, speaker and consultant. She is also a homeschooling mom of two brilliant boys with differences and special needs. Shawna has written four books for parents of special needs – Everyday Autism, Special Education at Home, Parenting Chaos and her latest, Homeschooling Your Child With Special Needs. She has also been featured in special needs discussions on Today.com, The Mighty, The Huffington Post and Autism Speaks. You can find her online at DifferentByDesignLearning.com. You can follow Shawna and Different By Design Learning on Pinterest, Facebook and Instagram.