Hands-on Language Arts for High School Homeschool
Hands-on Language Arts for High School Homeschool
My older son is graduating high school this year.
Looking back, it's hard for me to believe that we are here, at the end of what often felt like a never-ending journey.
I remember our first day homeschooling. I got out the workbooks. I set up the desks. I even rang a bell to simulate the bell ringing in a traditional school for work to begin.
It was a total disaster.
We made the decision to homeschool him because a formal approach to education was not working for his needs. So, why did I try to recreate it at home?
It felt safe. It felt familiar. If I am honest, it felt like what I had to do in order not to fail him.
It did not work.

Is Hands-on Homeschooling Really Possible for High School Learners?
Eventually, I started to move toward my child and lean into how he naturally learns.
I figured out that if he could touch and experience what he was learning about in some way, he would comprehend and retain the information with much more success.
It worked really, really well.
But then, the high school years rolled around, and again, I went back to what I knew.
Textbooks, five paragraph essays, and lots of quizzes became the hallmark of our homeschool.
He was miserable. I was miserable. And the worst part was, he began to learn less and resist more.
I wondered, "Would it be possible to add hands-on activities back into our high school learning?"
Although it felt scary at the time, I made the decision to go back to what I knew would work. I made the decision to take a hands-on approach to homeschooling high school.
Because it has worked so well for both of my sons, I am often asked to share specifics.
How do you practically take a high school level course and create a hands-on learning experience?
Today, I want to walk you through exactly how we do it, using language arts as the example.
Hands-on Language Arts for High School Homeschool: An Overview
When I made the commitment to return to a more experiential and hands-on approach to my son's learning, I found that it really didn't look all that different from hands-on learning when he was younger.
The primary difference was the subject matter, not the individual activities themselves.
For example, we were huge fans of Five In A Row when my boys were in elementary school. The reading itself, combined with visual and kinesthetic activities, worked together beautifully for my family.
It is essentially the same for my teenagers today.

How Does Hands-on Language Arts for High School Really Work?
Let me give you a guide to my son's latest literature review, Bram Stoker's Dracula.
As he read the book, I did the same (although I am better able to fit it in by listening to it on audio while cleaning or driving). He and I would randomly connect and discuss various events in the story. We also spent some time really hashing out what we thought about the main themes and characters.
Given our shared experience with the literature, it was natural to find other ways to incorporate hands-on learning into his study.
Maps
An easy way to create a hands-on experience associated with his learning is to simply identify the countries that are the setting for the story. In this case, we were also able to identify the specific rivers mentioned by Stoker, as well as the route Dracula takes as he makes his way back from England to Romania.
Cooking
At one point, a main character mentions the exotic dishes he is exposed to for the first time when visiting Romania. We looked up a recipe for one and had it for dinner that week.
(This is actually one of my favorite ways to create a hands-on learning experience. He feels more connected to the literature, and my meal plan is written for me!)
Build-It
My son loves to create scale models. This definitely helps keep his hands-on learning on track. As I write this, he is working on a scale model of the ship that is attacked by Dracula in the story. It is an interest-led, hands-on way to make language arts really come alive!
Art
One of the biggest surprises for me has been how art can be an element of every lesson in one way or another.
Simply drawing the landscape described by the author or creating an artistic depiction of the book's climax is a wonderful way to intentionally expand a language arts lesson into an experience.
It is hard for me to believe my son will not be learning with me like this for much longer!
My Favorite Reason for Hands-on Learning
One of the most important benefits of hands-on learning, in my experience, has nothing to do with the lesson itself. While there are a plethora of educational benefits, the truth is, I am grateful for all the memories these projects have created for us along the way.
This example includes language arts, but it is just as true for every subject.
Hands-on learning does not have to end because your child is maturing and entering high school. In fact, I think it is the very best time to embrace a more experiential, whole learner approach.
Try some of these ideas! I think you (and your homeschooler) will love it!
You May Also Like
100 Hands-on Activities for Middle and High School
Hands-on Countries of the World Activities Your Kids Will Love
Free Planet Mini Reports (Put in 0.00 when you see the pay-what-you-can option.)
Helping Your Children Develop Good Study Skills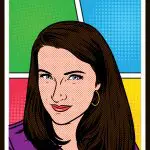 Shawna Wingert is a special education teacher turned writer, speaker and consultant. She is also a homeschooling mom of two brilliant boys with differences and special needs. Shawna has written four books for parents of special needs – Everyday Autism, Special Education at Home, Parenting Chaos and her latest, Homeschooling Your Child With Special Needs. She has also been featured in special needs discussions on Today.com, The Mighty, The Huffington Post and Autism Speaks. You can find her online at DifferentByDesignLearning.com. You can follow Shawna and Different By Design Learning on Pinterest, Facebook and Instagram.